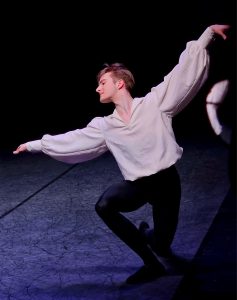 We are thrilled to welcome Emīls Jānis Ungurs into our Creative Fellowship family and hope to see his talents blossoming with our support taking his artistic and life essential skills to the next levels.
Emīls Jānis Ungurs is 17 years old and a seventh-year student at the Riga Ballet School in Latvia. His dream is to dance with a world-known ballet company and become one of the most respected choreographers and teachers of his time. His passion is character dancing as it allows to learn more about different cultures.
With our support Emīls will be joining the 2023 Vienna Ballet Intensive as a guest participant. In collaboration with Attitude Studios, the Vienna Ballet Intensive organizing team, we chose Emīls for his proactive approach, openness in communication, adventurous spirit, clearly articulated expectations, thoroughly prepared application documents and good quality exhibition of performing skills.
We are looking forward to meeting Emīls in Vienna and hope that this first ever cross-European solo trip will open doors for endless international experiences at world ballet contests and workshops.