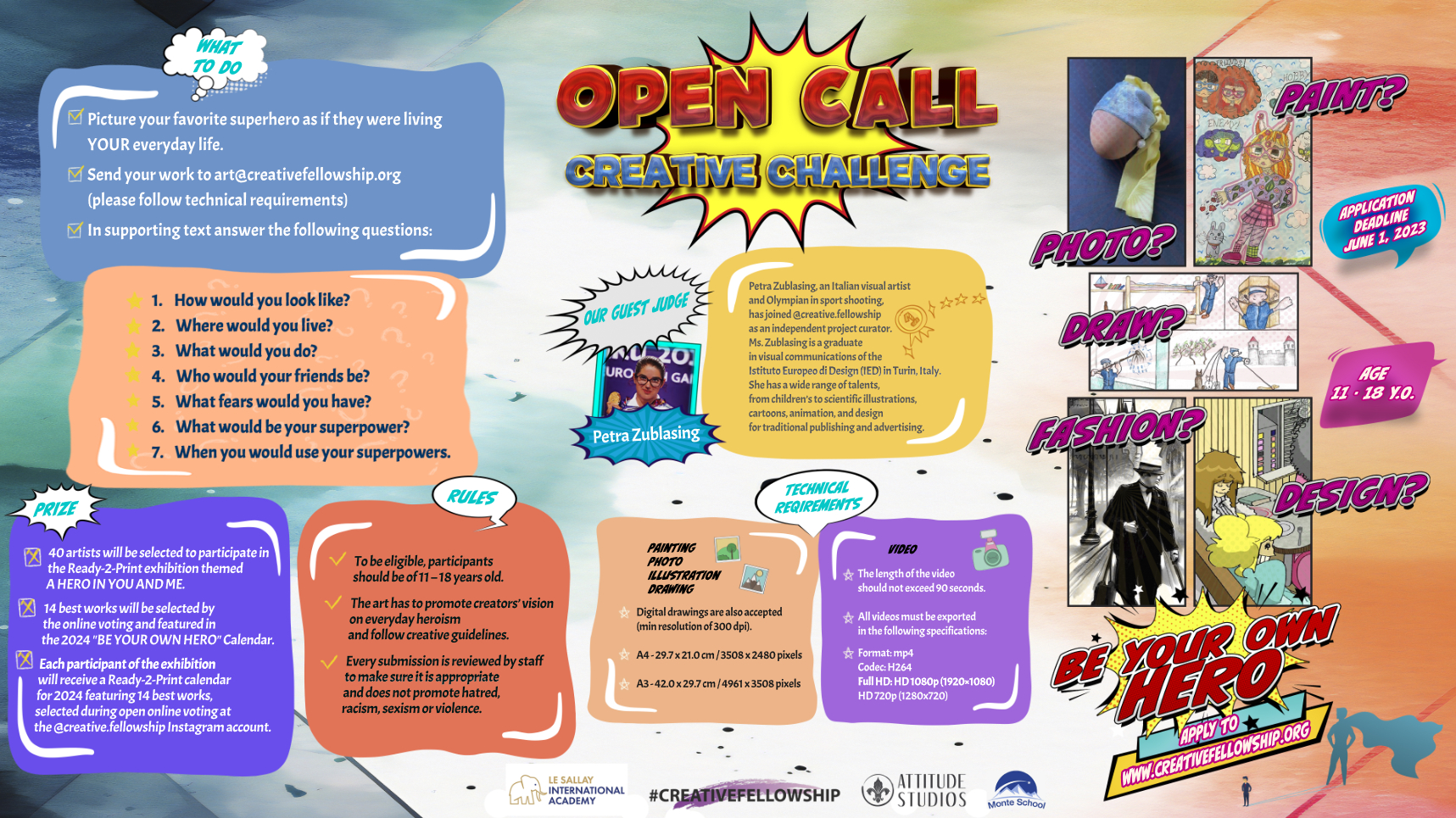 BE YOUR OWN HERO!
OPEN CALL
CREATIVE CHALLENGE
DRAW? PAINT? PHOTO? DESIGN?
FASHION? 
BE A HERO! SHARE YOUR ARTWORK
AGE: 11 – 18 YEARS OLD
APPLICATION DEADLINE: JUNE 13, 2023
PRIZE: READY2PRINT ONLINE EXIBITION and 2024 CALENDAR
CREATIVE CHALLENGE
BE YOUR OWN HERO!
WHAT TO DO
Picture your favorite superhero as if they were living YOUR everyday life.
Send your work to art@creativefellowship.org (please follow technical requirements)
In supporting text answer the following questions:
How would you look like?
Where would you live?
What would you do?
Who would your friends be?
What fears would you have?
What would be your superpower?
When you would use your superpowers.
Applications are accepted until June 13, 2023.
RULES
To be eligible, participants should be of 11 – 18 years old.
The art has to promote creators' vision on everyday heroism and follow creative guidelines.
Every submission is reviewed by staff to make sure it is appropriate and does not promote hatred, racism, sexism or violence.
Applications are accepted until May 14, 2023.
PRIZE
40 artists will be selected to participate in the Ready-2-Print exhibition themed A HERO IN YOU AND ME
14 best works will be selected by the online voting and featured in the 2024 "BE YOUR OWN HERO" Calendar.
Each participant of the exhibition will receive a Ready-2-Print calendar for 2024 featuring 14 best works, selected during open online voting at the @creative.fellowship Instagram account.
TECHNICAL REQIREMENTS
Painting, Photo, Illustration / drawing
Digital drawings are also accepted (min resolution of 300 dpi).
A4 29.7 x 21.0 cm 3508 x 2480 pixels
A3 42.0 x 29.7 cm 4961 x 3508 pixels
Video
The length of the video should not exceed 90 seconds.
All videos must be exported in the following specifications:
Format: mp4
Codec: H264
Full HD: HD 1080p (1920×1080) or HD 720p (1280×720)
OUR GUEST JUDGE 
Petra Zublasing, an Italian visual artist and Olympian in sport shooting, has joined @creative.fellowship as an independent project curator.
Ms. Zublasing is a graduate in visual communications of the Istituto Europeo di Design (IED) in Turin, Italy. She has a wide range of talents, from children's to scientific illustrations, cartoons, animation, and design for traditional publishing and advertising.
*IN SUPPORT TO DISPLACED CHILDREN & YOUTH OF UKRAINE